Road Side Assistance Hotline: 1-877-222-5887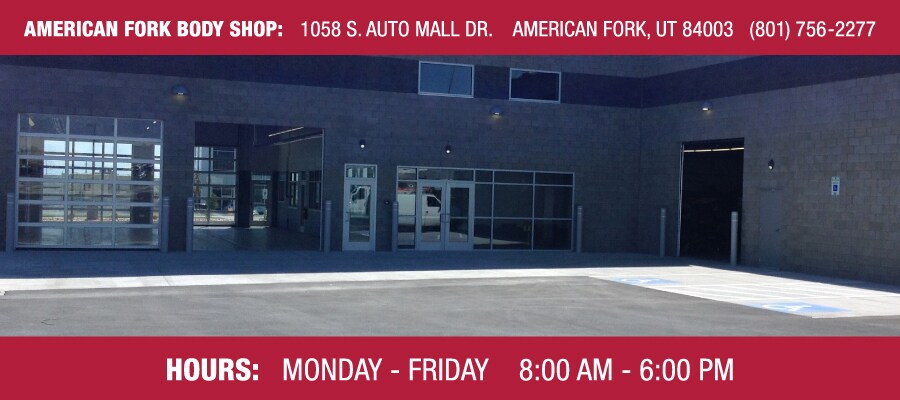 Our Body Shop offer the follow conveniences
* I-Car Gold & ASE Certified
* Factory Trained Technicians
* Hassle Free Claims Processing
* State Of The Art Equipment
* Eco-friendly Paint


* 24 Hour Towing Service Available
* All Insurance Companies Accepted
* Pick Up & Delivery Shuttle Service Available
* Key Drop For Early Morning Or Late Evening
* Lifetime Workmanship Guarantee

* Repair All Makes & Models
* Complimentary Car Wash With Repair.
* Complimentary WiFi, Coffee & Drinks
* Thorough Professional Appraisal
* Visa, MasterCard, American Express and Discover


Frequently Asked Questions
Q: Where is the best body shop near me?
A: Ken Garff Auto Body and Glass has locations in Ogden, Salt Lake, and American Fork (1058 S. Auto Mall Drive, American Fork UT 84003). With hours open from 7:30 AM - 6 PM you'll find a convenient time to get your car looking great again.We also serve the areas of South Jordan and Orem.

Q: Where can I get the best body work on my car?
A: Our experienced staff has dealt with nearly every brand on the road today, every insurance carrier and have I-Car and ASE certification, giving them many advanced hours in continuing their education. We have the equipment and expertise to restore the frame and uni-body on your vehicle to the manufacturer's specifications, match your vehicle's paint with precision, and duplicate every detail to make it an invisible transition.
Q: Are you factory certified?
A: At the Ken Garff Body & Glass Salt Lake City location we are Factory Certified through Volvo, Jaguar, Volkswagen, and Mercedes-Benz. Call our Salt Lake Location at (801) 526-1870 for further questions and to set up an appointment. We are also factory certified through Chevrolet at our American Fork Body & Glass; call at (801) 756-2277.

Visit us on
Facebook